Contact: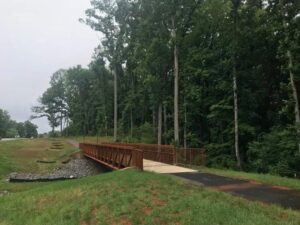 Town of Bermuda Run Community Vision Fund
Email: brcommunityvisionfund@nullgmail.com
June 29, 2023
Ribbon Cutting Ceremony and Grand Opening of the Blue Heron Trail in the Town of Bermuda Run
The Town of Bermuda Run and the Davie County Chamber of Commerce invite you to celebrate the grand opening of the long-awaited Blue Heron Trail with a ribbon-cutting ceremony on Tuesday, July 11, 2023. There will be two ribbon cuttings, the first at 4:45 pm at the pedestrian bridge on the trail, located on Hwy. 158 just past Kinderton Blvd. Parking is available in the Kinderton Business Park, Kinderton Blvd. The second ribbon-cutting ceremony is at 5:15 pm at the entrance to the trail tunnel located at the Kinderton Village access on Lakeside Crossing. Street parking is available.
The much anticipated Blue Heron Trail is a pedestrian path that will eventually loop the Bahnson ponds at Kinderton and connect to the future Riverwalk Trail. The opening of Phase 1, which follows Hwy. 158 from the roundabout to just past Royal Troon Lane, makes a right as the trail proceeds through the Kinderton Tunnel. This first phase is about a mile long. The Blue Heron Trail is a commitment to our community to provide safe and efficient pedestrian networks. The Town and its leaders have communicated and advocated for this project during the past eight years and have worked tirelessly to ensure that Phase 1 and future trails meet the needs and desires of the Bermuda Run community and all who visit. Join us for the Grand Opening of Phase 1 of the Blue Heron Trail Tuesday, July 11, 2023, at 4:45 & 5:15 pm. Walk with us!
For more information on the ribbon cutting ceremony and the Blue Heron Trail opening, contact the Town of Bermuda Run at 336.998.0906.